Mental health care furniture has a different performance level compared to ordinary furniture. It not only has to withstand the strains that come with challenging behaviors, but also the regulations in place for mental health units.
Furniture Designed And Built To Be Strong
Mental health settings can be volatile at times. It's not uncommon for patients or users to try and damage their surroundings, including furniture and fixtures.
Materials such as melamine-faced MDF generally perform to a much higher level in challenging environments, particularly when reinforced by solid timber, and the thoughtful application of specialist reinforcement components such as heavy-duty steel drawer runners, back blocks, double-cranked or 270-degree door hinges, and heavy-duty strip hinges.
All of the above represent key features that NOXIE FURNITURE FACTORY takes into cognizant when building furniture for mental health environments.
Easy To Clean Furniture – Wipeable
Ensuring that spaces are clean and hygienic is a prime consideration for all healthcare environments. This is something to be considered in all rooms, not just communal and kitchen areas.
Dependent on an individual's mental health condition, a variety of incidents or accidents can occur. Living and dining spaces that will have food and drink in should include wiping clean seating and tables.
Our Mental health bedroom furniture includes moisture-resistant mattresses and we advice our clients to follow the basic guidelines that all exposed surfaces are wiped clean.
Our furniture for these environments is unique as we take into account the aesthetics of the environment – furniture needs to be robust and safe while retaining a homely, domestic feel as far as possible.
Increasingly, our designers and specifiers in the mental health field are keen to move away from custodial-type furniture manufactured in metals or plastics, and even the perennially popular and hard-wearing compact laminate materials used in many challenging environments are coming to be seen as too institutional.
On this front, principles such as biophilic design, which encourages the use of natural products such as wood grains, plant fibers, etc may be of particular use in creating more therapeutic environments – assuming they can always be used in a way that also delivers the robustness and security required.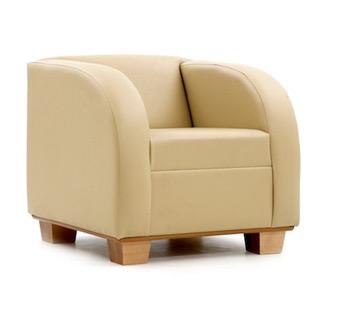 Furniture With Anti Ligature Features
"All NOXIE furniture and fittings are robust, anti-ligature, prevent opportunities for concealment, and meet infection control requirements while being as domestic in style as possible and not offering opportunities for easy lifting or breakage."
Conclusion
When we are specifying furniture for mental health environments, there is a huge variety of specialist issues that are taken into consideration. All possible outcomes are studied as part of a risk assessment. This will then allow our clients to make the best selection decisions, with the safety of the end-users in mind.
For a solution that's driven by the needs of those most vulnerable, talk to one of our experts today. In NOXIE FURNITURE FACTORY Limited. We manufacture all furniture in-house, here in Mushin, the hub of Furniture in Lagos Nigeria. Our Furniture is delivered to the room and assembled by a specifically trained team.
If your project requires bespoke furniture, our in-house designers can also work alongside you to ensure your vision is achieved.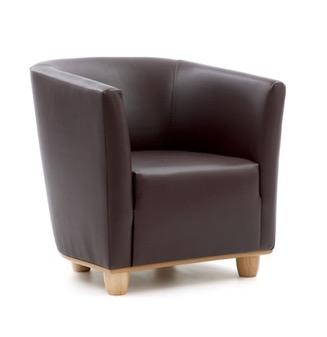 Furniture for mental health facilities and challenging environments will need to be able to withstand the strains that come with challenging behavior and also adhere to regulations in place for mental health units. The furniture will need to accommodate individuals with vastly different needs and will have different performance levels than ordinary furniture. Choosing the right kind of furniture and seating solutions can help create a safe, calming, and therapeutic environment, thus aiding patient recovery. Some key attributes to consider when choosing mental health furniture include:
Safety
When selecting furniture for mental health units, the first and most important consideration is patient and caregiver safety. Patients with severe mental health issues like clinical depression or schizophrenia may have serious thoughts of self-harm. Those with other issues like autism disorders can be prone to anger outbursts and so it will be important to avoid furniture that can be used to cause harm. This means no sharp edges or removable parts. It is also best to provide open shelving rather than cabinets with drawers and doors which might be more easily removed or disconnected. There should also be no ligature points on the provided furniture, which means chairs should be armless or with closed arm panels. Depending on the environment, furniture with no concealment areas will eliminate the possibility of hiding contraband.
Additionally, all furniture for challenging environments will need to comply with all relevant fire retardant requirements. Hospitals and healthcare will require upholstery which is at the Crib 5 Testing level, while secure environments such as prisons and high hazard areas will require upholstery tested to the higher Crib 7 Test level.
Germ-free
Hygiene is a prime consideration for all healthcare environments. The materials on your reinforced furniture should be able to resist the spread of germs and the growth of bacteria. For seating upholstery, there are multiple anti-microbial upholstery vinyl on the market which are specifically designed to resist bacteria and microbial growth.
Robust Furniture – Built for Strength
It's not uncommon for patients and users to cause damage to their surroundings, including equipment and furnishings. Ensuring that you are equipped with tough furniture that won't easily damage will be important. Standard domestic and some commercial furniture is usually made from chipboard or similar low-impact materials, and these are likely to perform far less robustly in these challenging environments. Materials like melamine-faced MDF are better suited for challenging environment furniture, especially when reinforced by solid timber. Another element to ensuring furniture can't be pushed over or lifted is to add weight to make the units heavy.

Easy to Clean Furniture
Cleaning protocols for any healthcare environment are usually very stringent. In mental health settings, physical and mental health go hand-in-hand, and one can affect or cause the other to worsen. For instance, patients may leave bodily fluids on furnishings and so you will need furniture that can be cleaned quickly and doesn't allow germs to hide or linger. Smooth surfaces such as wipe-clean vinyl upholstery will enable staff to wipe down each piece, thus mitigating the risk of exposure to germs.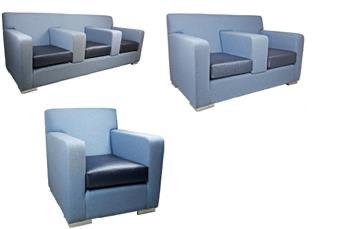 Target Comfortable Furniture with Increased Support
The comfort of patients and users is vital in mental health settings as it will increase relaxation and reduces the risk of fatigue, restlessness, pain, and irritability. Foam furniture, including foam chairs and foam cubes, provide body support while sitting, and has no hard edges. Bariatric chairs may be required for bariatric users, to provide adequate support and comfort.
Extreme Furniture That Is Tamper Resistant
The right mental health furniture should discourage or prevent users from tampering with elements of the furniture. One solution is to bolt seating units to the floor so as not to be lifted. Additionally, fasteners should be tamper-resistant and there shouldn't be any exposed staples or other catch points on the furniture.
Provide Personal Space
Residents in a behavioral health facility can have need more personal space than those in the average hospital. Chairs and tables should be able to be moved apart so they can be rearranged as the clientele changes or in case of emergencies. You can incorporate ganged seating or use tables as spacers between seating.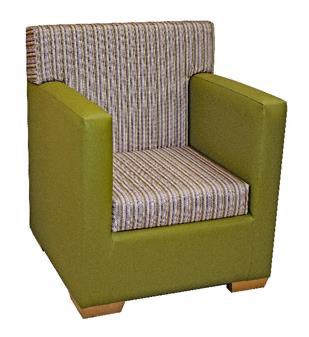 Aesthetics
When healthcare facilities are visually stimulating, with an interesting use of color and design, patients feel alive, which can assist in an uplift in overall wellbeing and speed up the healing process. By choosing relevant colorful upholstery for furniture, the tone and feel of a healthcare environment can improve.
Conclusion
There are a number of factors that we consider in NOXIE FURNITURE FACTORY Limited when manufacturing mental health furniture. Our robust, reinforced chairs have been designed to maximize safety, provide support and comfort, and promote physical and emotional well-being. They are also durable and reduce replacement cycles.
Contact us today for your special needs furniture.